An inspiring talk that illustrates the power of community, demonstrating that every one of us has the power to make a difference.
How a small group of committed volunteers raised nearly $2 million dollars to create a 1400 ace nature preserve.
The story of Swan Conservation Trust exemplifies how individuals with diverse personalities and talents came together and built a community of like-minded people around a shared vision, leveraging that effort to produce tangible results.
It is a story of inspiration and courage, showing how focus and attention can generate the power to overcome daunting obstacles.
Surrounded by massive logging operations clear cutting forests at an alarming rate, the all-volunteer board of trustees for Swan Trust undertook a seemingly impossible task, understanding that failure was better than not having tried at all.
Big Swan Headwaters Preserve is land free and clear, paid for through a grassroots capital campaign managed by an all-volunteer staff.
Outreach through live events, educational activities, along with social and conventional media like newsletters and direct mail, inspired hundreds from across the country to make contributions toward a common goal.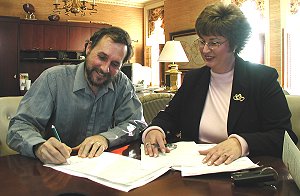 As president of Swan Trust, Douglas signed the note to purchase the land and establish Big Swan headwaters Preserve.
He took on the task of fundraising $5000 a month, building a community and donor base of both local and international supporters.
Contact Douglas to book this talk.